This article will go over the process of Sending Documents from a WeEstimate job to Sedona.
There are two

Prerequisite

s -
1. Your company has the Sedona Document API configured
2. The job is won and has been created within Sedona.
To add a a document to a job within WeEstimate, right click on the "Supporting Documents" folder on the project view and click "Add Document" -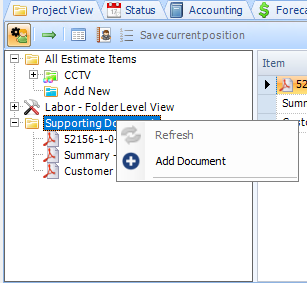 Once a document is added, or if you already have documents within the Supporting Documents folder, go to the accounting tab within the job and click "Export Documents." Select the documents you'd like to import and click on the "Export Selected Documents Button." The system will add each document and when finished you'll see a "All Documents Successfully Exported" message.